About
I'm Tab Kimpton, full time Costume maker and Comic writer.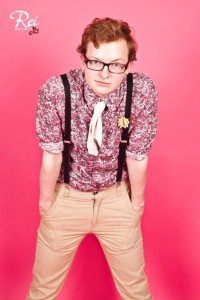 I began making costumes in October 2007 for a small recon in my local town. Since then I have made dozens of costumes, for myself, friends and commissioners. If you're interested in commissioning me, please look at my Commission information.
I do a lot of skit and performance work in my costumes, so you'll find some funny stuff on this site as well as serious costumes. I love making complex costumes, but my real love lies in entertaining people and making them laugh.
I run a dealers table at most Anime/scifi events in the UK, selling a range of Steampunk accessories, offering my commissions and selling work from my Webcomic. I love to give panels and workshops at events because I like to help others learn how to make things, as I learnt how to make things though others teaching me, so I'm passing on the trade. If you'd like to have me do a talk at an event for you, please visit the events section to see my schedule and the sort of panels I give.
My original costumes are part of the Khaotic Emporium, a Steampunk thing that's hard to describe unless you meet us in person.
If you're interested in GLBT, Queer, Gender and Sexuality comics, feel free to have a look at my web comic Khaos Komix
Kindest Regards,
Tab