I got up on stage and acted a tit. Here's video evidence.
Big thank you to Karen for performing beautifully with me, Christian for helping me peg bits of blue costume on my washing line as it dried, Kii for letting me borrow her embroidery machine for the trim on the costume and Timber for manning my stall while I was off swanning about the convention.
Also a big thank you to the judges who decided I deserved a second place compared to all the other amazing costumes. Sima Yi was made over a period of 9 days with about 100 hours work, I didn't even think I'd get it finished for the omake! Details on costume construction to follow when I get some pictures of it. Most of it is spray paint and acrylic ink, though it uses a lot of techniques that other people will probably appreciate for future costumes.
---
KONNICHIWA!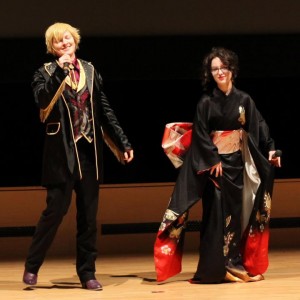 We've got some videos and Photos from Kii's performance at Ayacon! A delight to watch as always, Kii brought down the house with her geisha moves and cheeky smile.
The Kimono is actual a real silk furisode from Japan because I'm a weirdo who likes collecting pretty fabrics. Songs are Murasaki no Yukari by Rin' and Bad Things by Jace Everett.
A big thank you to Bento Dan and Batale for the Images and Video!
---
Finally got all the images and videos from Kitacon!
We did 3 performances this year, starting off with The history of the Soviet Union, Arranged to the melody of Tetris:
Watch the original video here!
Billy Strings then sang about some things in his head, accompanied by his troupe of puppets
Warning, Video may contain HOT ASS.
And Roxie Parts finished off the show with a burlesque performance the likes of which the con scene has never seen:
Warning, video also contains copious amounts of HOT ASS.
We have some pictures up of the event on the characters pages, so you can check out Roxie's new costume!
Warning- Pictures contain Cogsworth's new face!
---