The Path to Princedom Part 1- References and Materials
Once every year I save a commission slot for a personal costume. This is because I love getting up and doing skits with friends- that's where my cosplay career started and where I hope to stay for many years to come. But just because something is a skit costume doesn't mean I want it to be simple- this is my chance to try out new techniques and really push myself to do things I wouldn't dare with commission work.
Enter Prince George: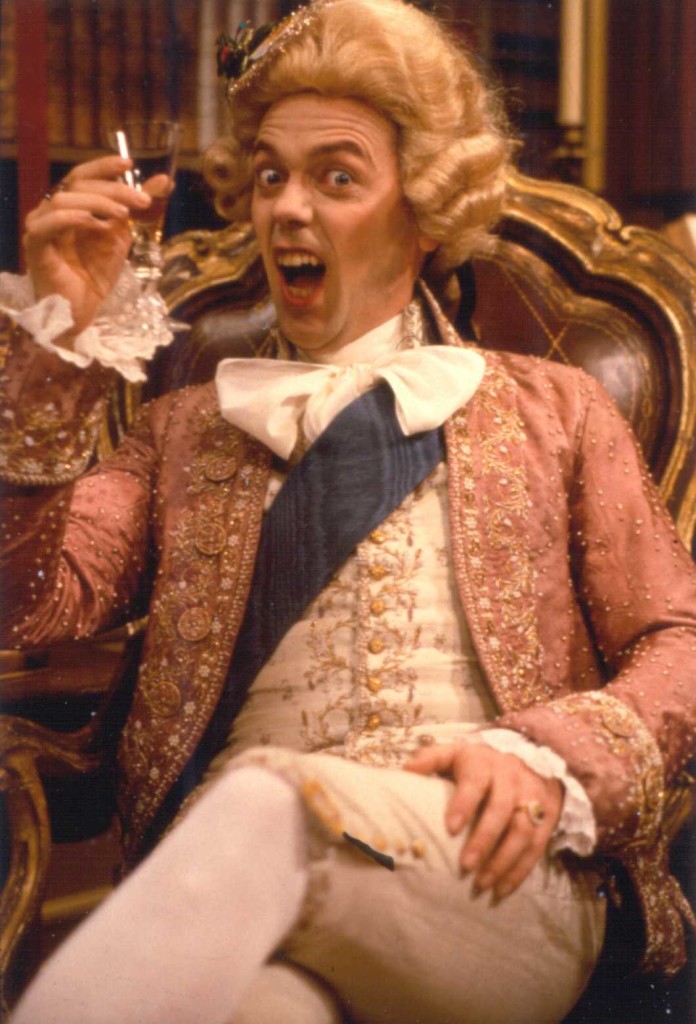 Sweet jesus look at all that bling. LOOK AT IT. THE HOURS OF EMBROIDERY AND PEARLS AND BEAUTIFUL EVERYWHERE.
And the best thing about this costume? That my long term buddy Christian R Allan is the perfect compliment to the look.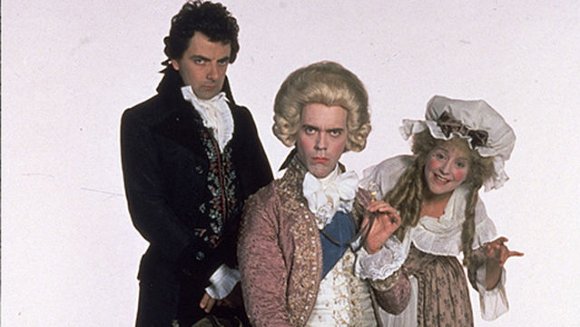 (The one on the left…)
There are THREE things a costume must be before I consider it for a personal costume:
1) It must be a new challenge. (I've made so much armour that all I want to do now is sew. SEW I TELL YOU)
2) It must cost less than £200 in materials to make (Because anything more and my costume business is a farce)
3) I must have the ability to have FUN in it. (I.E. Can I sit down/move about/ spend the day not having to pull a bitch face)
We have a winner!
I'm going to go spent hundreds of hours beading a coat, then get smashed with Christian and possibly wreck it.  Tally Ho!
Materials and research info under the cut!
I spent a good few hours going through the series and screen shotting the costume. Unfortunately I couldn't track down where the costumes ended up, though the costume maker in the series is billed as  Annie Hardinge. I spent far too long finding out what the hell a watch/seal fob was.
Patterns I've taken from my pattern store and include the basic coat from burda 2471 and the trousers, waistcoat and shirt from simplicity 4923

Most of the materials in this costume are recycled or taken from my fabric stores. The hardest thing to track down was a suitable pink for the coat.  In the show it is clearly a silk, but I went for an upholstery fabric in a dusky pink, the only fabric I could find with a tessellating pattern on it.
http://www.ebay.co.uk/itm/330656561933?ssPageName=STRK:MEWNX:IT&_trksid=p3984.m1439.l2649
I have an embroidery machine which I'll be putting to full use in this costume. Best source for embroidery thread I find is this store:
http://www.ebay.co.uk/itm/140718043837?ssPageName=STRK:MEWNX:IT&_trksid=p3984.m1439.l2649
I ordered two 1000m spools and a big cone of white for the underneath.
Beads I decided on 3mm glass pearls to make it look less cheap, but also be dainty. I ordered 4000 over here:
http://www.ebay.co.uk/itm/261021051089?ssPageName=STRK:MEWNX:IT&_trksid=p3984.m1439.l2649
For shoes I'm the same height as Christian, so we decided to put me in heels and him in flats to attempt to make me look like the tower of manhood that is Hugh Laurie. I spent a very long time looking for the right colour shoes before deciding it was impossible and buying the lightest suede ones I could find. Suede is fantastic for cosplaying because you can paint suede and it doesn't flake.
http://www.ebay.co.uk/itm/281088799002?var=580190307894&ssPageName=STRK:MEWNX:IT&_trksid=p3984.m1439.l2649
These will be cut up to the correct shape, then these beautiful buckles added:
http://www.ebay.co.uk/itm/160868752009?ssPageName=STRK:MEWNX:IT&_trksid=p3984.m1439.l2649
Wig stuff I bought this book:
http://www.amazon.co.uk/Wig-Making-Styling-Complete-Theatre/dp/0240813200
And bought a bunch of wefts from coscraft
http://www.coscraft.co.uk/wefts/456-straight-weft-white.html
Total cost of materials (including buying white taffetta and a butt tonne of interfacing): £135.90
Next tutorial- designing the embroidery!