How to make a Loki costume part 3- Materials
A fair chunk of the work put into this costume has been on gathering the correct materials for the job. Any one else looking to make a loki costume I've just made your work a lot easier, here' s the list of where I sourced everything:
Wig (original seller has shut up shop, here's a close match though)
http://www.ebay.co.uk/itm/Premium-Futura-Straight-Lace-front-Wig-Heat-Resistant-Available-In-13-Colors-/161011464287?pt=UK_Women_s_Wigs&var=&hash=item257d07f85f
Black leather: http://www.leprevo.co.uk/ ( 017 cowhide brazillian leather)
Patterned leather: http://www.pittardsleather.co.uk/ (Big thanks to Liz for letting me know about this place. Call up and ask for a sample sent to you. They emboss lamb leather so you'll need about 5 hides) My sample looked like this: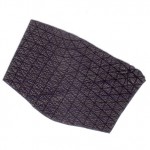 Green fabric: I dyed noile silk in my washing machine with dylon dyes, all from fabric land. It looks like this http://www.fabricland.co.uk/NOILE.jpg
Metal edging: cheapest place I could find was on ebay here http://www.ebay.co.uk/itm/Zipper-stopers-Top-Stops-30-per-pack-/350410295147?pt=LH_DefaultDomain_0&var=&hash=item519614c76b Mine were size 10 in the brass. They come in packs of 30, I ordered 65 packs.
Metal chainmail fabric: Tricky one, on close inspection the costume looks like it's got this stuff on it:
You can order samples and buy from this american company here: http://www.whitinganddavis.com/pages/cfMeshFabrics.cfm
Or you can buy 2 of these on ebay and repaint them like I did:
http://www.ebay.co.uk/itm/WOMENS-LADIES-CHAINMAIL-STUD-TIE-BACK-SEXY-PARTY-EVENING-CLUBWEAR-DRESS-TOP-6-12-/230811764430?pt=UK_Women_s_Tops_Shirts&var=530063751936&hash=item35bd7406ce
For armour I'm using silicone moulds and easy flo 120, which I buy here:
http://www.mouldlife.net/easyflo-120-1090-p.asp
Black poppers for boot covers
http://www.ebay.co.uk/itm/181063569040?var=480211904904&ssPageName=STRK:MEWNX:IT&_trksid=p3984.m1439.l2649
Boots: http://cgi.ebay.co.uk/ws/eBayISAPI.dll?ViewItem&item=140832642298&var=440075012505
(bit pricey but they have the perfect toes. Had to be cut down at the front to avoid the trousers bulging)
And that's about it! If there's any bits I've missed please let me know and I'll try to track down how I sourced it.